REVIEWS
SCIENCE: Through Native American Eyes
Cradleboard Teaching Project


Recommendation: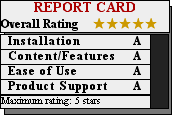 "This multicultural 'treasure' is a must for any classroom.
"Through beautiful video and audio clips, the program allows the user to experience a multicultural scientific sensation!"

"... the program is extremely easy to install and run!

"... brings a whole new dimension to the classroom.

"Outstanding!"

Reviewer: John Drag, Jr., Assistant Principal
Eagle Ridge Science and Technology Magnet School, FL

"I have seen a lot of curriculum since I have been teaching, but nothing greater than this. This CD boosted my confidence in becoming a teacher."

Nancy Jo Bob.
Teacher, Bellingham, Washington

"What it does is to bring science into a human context that grounds the material for children. The challenge is that sometimes the science is lost. In this case, it is good science in the context of one people's culture."

Gerald Wheeler
Executive Director, National Science Teachers Association

"I was really impressed that the CD did not allow the science things to interfere with the cultural things, or the cultural things to interfere with the science. It's really well balanced. I'm looking forward to the next productions."
Dr. Jack Barden
Tribal College Rural Systemic Initiative


"I have found the CD ROM easy to use and easy to set up. I am quite a techno phobe but was able to navigate my way through the set up instructions with realitive ease. I think that the popularity of the program with my students speaks to their opinion of it. There is a genuine utilization of culturally relevant material to convey important scientific principles."

Mahakoa Lujan
Teacher: Ke Kulakaiapuni 'O Anuenue, Hawaii

"This is the only thing of its type being done. It is the best example I've come across of excellence in education technology.

Pamela Livingston
Teacher, multi grades

"Stereotyping is hard to break. Unfortunately, many of our students have a Disney sense of reality. A project like Cradleboard takes something abstract and makes it concrete.

Melissa Shein
Teacher, Grade 4

"It gives mainstream children the opportunity to see that Native American peoples still exist. "

Katsitsionni Fox
Mohawk Teacher
Akwesasne Freedom School

©2001 Nihewan Foundation